● China Mobile, together with ZTE and other strategic partners, actively explored and practiced 5G New Calling
● 5G New Calling benefits both industrial and individual users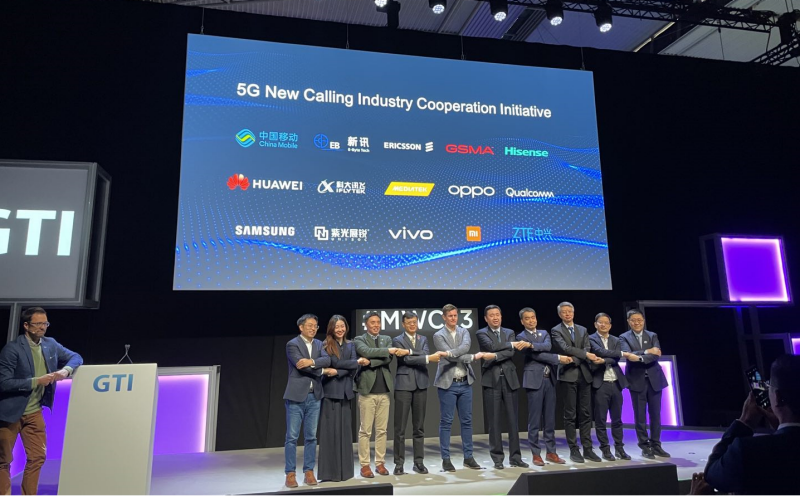 Barcelona, Spain, 3 March 2023 – ZTE Corporation (0763.HK / 000063.SZ), a global leading provider of information and communication technology solutions, today announced that the 5G New Calling Industry Development Forum jointly organized by GTI and China Mobile was held at Mobile World Congress (MWC) 2023 in Barcelona, Spain.
Mr. Tu Jiashun, Technical Spokesperson of ZTE, shared his insights with guests around the world at a roundtable conference themed "The cooperation and business innovation of 5G New Calling".
Mr. Chen Xinyu, Vice President of ZTE, joined the New Calling Industry Cooperation Initiative and called for more industry chain partners to build a new ecosystem for win-win cooperation.
As a basic service of operators, the calling service plays an important bridge role in people's production activities and social communication. 5G New Calling is an upgrade of operators' basic calling services. Through technological innovation, it brings various interactive, intelligent and interesting new services to users. For individual users, New Calling can comprehensively improve service experiences, attract diversified people to return to secure and trustworthy operator networks, and lay a solid foundation for innovation in the industry. For industrial users, New Calling can be combined with industrial applications to reach users accurately, improve service efficiency, and meet remote and digital service development requirements of industries.
China Mobile, together with ZTE and other strategic partners, has actively explored and practiced 5G New Calling in standard research, specification formulation, and pilot verification, and jointly promoted the maturity of the industry chain.
In 2021, the Guangdong branch of China Mobile worked with ZTE to carry out the 5G New Calling pilot to verify the services such as "Calling Business Card", "Intelligent Customer Service", "Video Sharing", "Electronic Whiteboard", "Content Sharing", and "Simultaneous Interpretation".
In May 2022, China Mobile, together with ZTE and other industry partners, released the 5G New Calling Technology White Paper to promote the collaboration and maturity of the New Calling industry chain.
In November 2022, ZTE helped China Mobile Hebei Branch successfully complete the first call based on the 5G New Calling network architecture, and implemented the "Fun Calling" and "Barrier-Free Calling" services based on the 5G New Calling network architecture.
In January 2023, the China Mobile Guangdong Branch and ZTE jointly completed end-to-end commercial 5G New Calling capability verification in Guangzhou, and started the first batch of friendly user recruitment.
Building a win-win new ecosystem of 5G New Calling requires the joint participation of the end-to-end industry chain. In the future, ZTE will work with all parties in the industry to jointly formulate a blueprint for a 5G New Calling.
For more information, please visit ZTE booth (3F30, Hall 3, Fira Gran Via) at Mobile World Congress 2023, or explore: https://www.zte.com.cn/global/about/exhibition/mwc23.html
ABOUT ZTE:
ZTE helps to connect the world with continuous innovation for a better future. The company provides innovative technologies and integrated solutions, its portfolio spans all series of wireless, wireline, devices and professional telecommunications services. Serving over a quarter of the global population, ZTE is dedicated to creating a digital and intelligent ecosystem, and enabling connectivity and trust everywhere. ZTE is listed on both the Hong Kong and Shenzhen Stock Exchanges. www.zte.com.cn/global